Welcome to Elizabeth,
A new masterplan community in Fort Mill, SC. by Lennar. This upcoming real estate development offers a range of homes and amenities that may catch your attention. In this article, we'll delve into the details of this new neighborhood proposal and discuss important factors to consider before making a decision.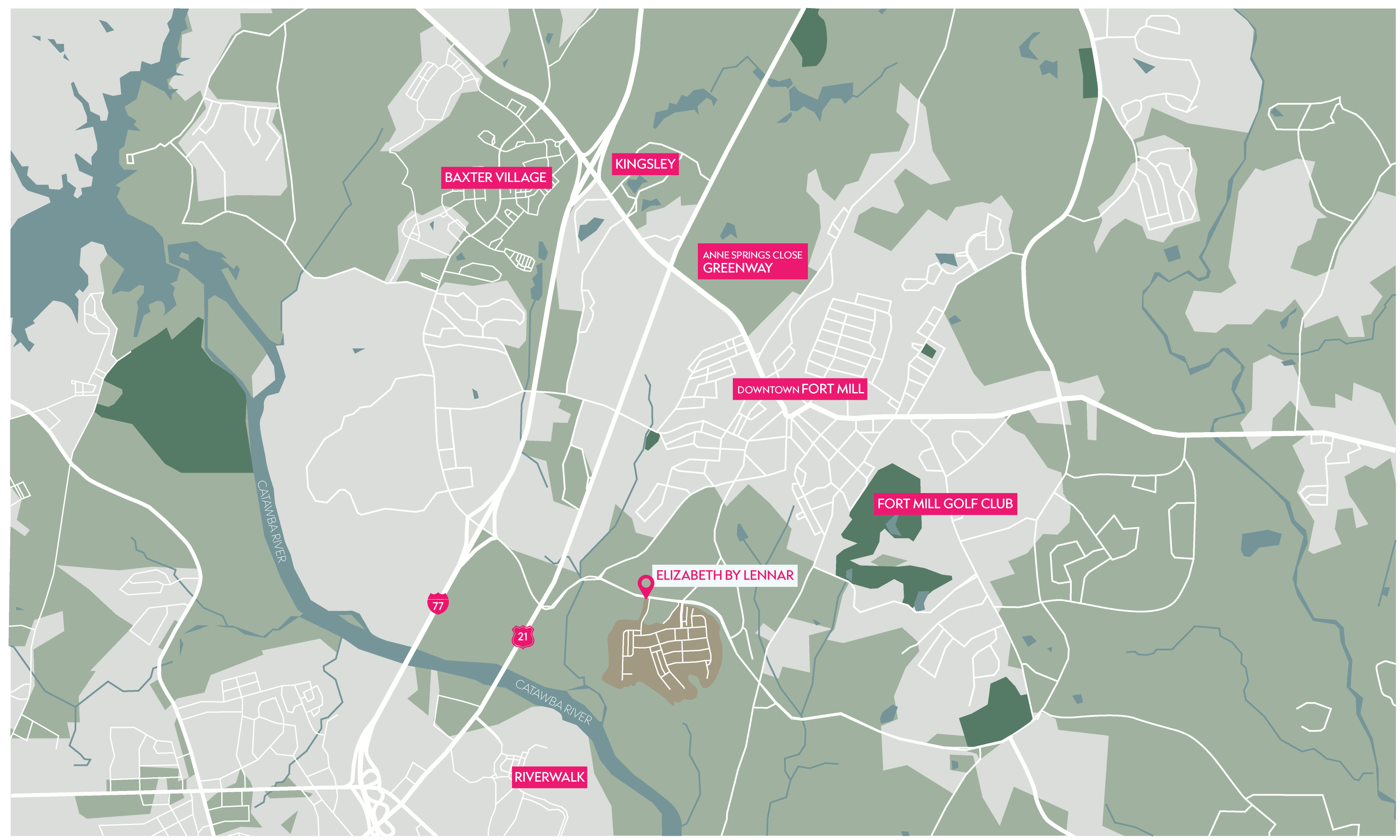 Elizabeth by Lennar, is ideally located between the serene Catawba River and Fort Mill Parkway, offering a peaceful setting with access to nearby attractions. It's situated just 4 miles from Downtown Fort Mill and the Anne Springs Close Greenway, and a convenient 19 mile drive from Charlotte, NC., providing residents with a blend of suburban tranquility and urban convenience.
Showcasing seven collections of homes, including townhomes and single-family homes, each of them designed to accommodate different lifestyles. Residents will have access to an array of amenities1, including a clubhouse, two pools, a fitness center, walking trails, a playground, multi-use courts, a pickleball court, pavilion, and pocket parks, intended to enhance your leisure and recreational experiences within the community.
While evaluating Elizabeth, it's essential to highlight the following advantages.
New Construction: Choosing a new construction home means everything is brand new, providing a fresh and modern living experience. In some cases, buyers have the opportunity to select finishes, allowing for a personalized touch.
Competitive Pricing: Comparatively, Lennar's Elizabeth offers a cost advantage of approximately $10 per square foot less when compared to the average price per square foot for new construction single-family homes in Fort Mill. This can lead to potential savings for homebuyers looking for a brand new home.
Desirable Location: Situated near major roadways such as US-21 and I-77, Elizabeth ensures convenient commuting to neighboring areas. The presence of commercial spaces adjacent to the community adds to the ease of access for daily necessities and services.
Loan Incentives: Lennar Mortgage, the preferred lending company associated with Elizabeth, offers loan incentives for future residents.
Alongside the pros, it's crucial to consider the following factors before committing to a purchase.
Community Development: Elizabeth is still in its early stages, and in the process of establishing itself. This means residents may experience ongoing construction and potential disruptions over the coming years.
Lot Sizes: Currently, the available lots for single-family homes are .20 acres or less, which may impact privacy and outdoor activities.
Amenities Timeline: The development of luxury amenities, such as the clubhouse and pools, is expected to commence around 2025. It's important to keep in mind that it might take several years before all the planned amenities are fully completed and available for use.
HOA Fees: While the current HOA fees may appear manageable, it's important to note that once the amenities are built, these fees are likely to increase. Ensure that you consider the potential long-term financial impact.
Tax Implications: An additional tax bond2, will be added to the annual tax bill, affecting the overall cost of homeownership at Elizabeth.
Making an Informed Decision.
Elizabeth presents an enticing opportunity to join a growing community in Fort Mill, SC. The desirable location, range of home options, and upcoming amenities make it worth exploring. However, it's essential to approach the decision with a balanced perspective, considering all that was discussed above.
When considering Lennar's Elizabeth, take the time to evaluate the pros and cons based on your specific needs and priorities. Consider your budget, desired amenities, and long-term plans. Partnering with a knowledgeable realtor will provide valuable guidance throughout the decision-making process, ensuring you have precise pricing information and all your questions are answered.
1 Phase I of amenities are projected to start early in 2025, subjected to change. There are no current available amenities.
2 Still to be voted by the town of Fort Mill's Council members on whether the tax bond will pass or not. Buyers are still expected to pay the amount agreed upon, the money will be held by the town until the voting's outcome. The purpose of the tax bond is to cover general upgrades and improvements, especially in infrastructure, that were made in order to accommodate this particular development.